Corrs Over The Years



Home
Latest Corrs News
Site Updates
Tour Dates
Images (1,000+ total)
Group
Corrs Women
Jim Corr
Performance
Gaster Book
Concert Shots by Me
Sharon's Wedding
Profiles
Band Members/Bio
Albums/Singles
Media
Magazine Scans
Articles/Interviews
Quotes
Video/DVD
About the site
Guestbook
Links
Corrs contact info
About the Site/Credits



Site created/maintained by Laura E. Leone



This site is in no way affiliated with The Corrs, their management, or Atlantic Records.
Welcome to Corrs Over the Years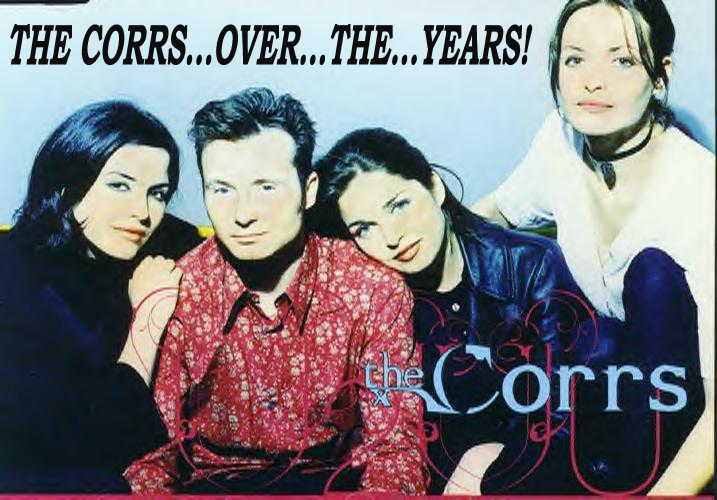 Site Updates
Corrs Over the Years (2000-2002) is now closed. Thank you to everyone who has supported me over the last couple of years. It's been a terrific experience! Please feel free to email me if you are looking for any images, articles, scans, quotes, news items, etc. I am keeping the site on my hard drive.

Check out the following sites for band info:

Closer to the Corrs - I am on the webteam for this site, so please check it out! :-)
Corrnucopia - Great message board run by a terrific guy, Glyn.
Corrboard - The definitive forum for Corrs fans, run by devoted fan Mark.
Corrs Official Site - Brand new! To be launched the week of 11 March.
Corrs Rock - A good, comprehensive site, run by Jai'me and friends.
Heaven Knows - Jason's good looking site!
The Corrs at Atlantic Records - The Official Corrs page at Atlantic
Click Corrs - Ellis's terrific site!
Corrs Page.de - An excellent German site, available in German and English
TJ's Download Site - Regularly updated videos available for download

Thanks again,
Laura

Week of 3/4:

Hi everyone! As you may have noticed, this site has been inaccessible for several hours of each day as of late. I have exceeded my bandwidth allottment at these times. Even though the problem could be rectified, thanks partly to generous offers by other Corrs fans, I have decided, after much deliberation, to close down Corrs Over the Years. The site, which I built from scratch, has been up for a year and a half, and I've enjoyed the work on it immensely. I have especially enjoyed getting to know so many bright, fun fellow Corrs fans out there. Thank you all so much for your support - everyone who gave me encouragement and information, who signed my guestbook, and who e-mailed me personally! The biggest perk, without a doubt, of being a Corrs webmistress has been, for me, meeting people (mostly online but some in person) - fellow fans who share a devotion to the music of the band. Those friendships will continue long after the site is taken down.

I hope you have all enjoyed COTY but personal reasons dictate that I can no longer invest time and resources in it. I will leave it up through this weekend (3/8-3/10) if people need to download images, articles, etc. Feel free to e-mail me if you are looking for anything specific. If you are a Corrs webmaster and my link is on your site, pls remove it, although I will be emailing webmasters separately as well to let you know.